Welcome to the Riderless Horses Team!

Riderless horses is honored to provide a place that shares the memories of those we have loved and lost. This team provides a place of dedication for those who kindled our hearts and spirits in some way by their love or their deeds.

The deep and special bond we share with our pets makes the pain of their deaths just as deep. Many people find comfort by remembering their pets in memorial pages.

For your littlest angel to a beloved grandparent we hope you will join our team and share your memories with us.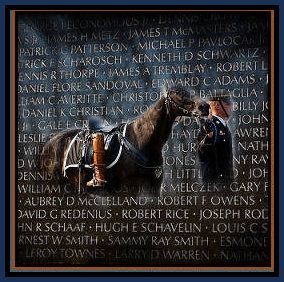 The riderless horse or caparisoned horse (in reference to its ornamental coverings, which have a detailed protocol all to themselves) is the single riderless horse with boots reversed in the stirrups that follows the caisson carrying the casket in a funeral procession.

The custom is believed to date back to the time of Genghis Khan, when a horse was sacrificed to serve the fallen warrior in the next world. The caparisoned horse later came to symbolize a warrior who would ride no more. Although, it should be known that over a thousand years before Genghis Khan the Afghan people represented the Buddha as a riderless horse.

In the United States, the caparisoned horse is part of the military honors given to an Army or Marine Corps officer who was a colonel or above; this includes the President, by virtue of having been the nation's military commander in chief and the Secretary of Defense, having overseen the armed forces. Abraham Lincoln, who was killed in 1865, was the first U.S. president to be honored with a caparisoned horse at his funeral.

The most famous riderless horse was "Black Jack," named for General of the Armies John "Black Jack" Pershing. Black Jack took part in the state funerals of Presidents John F. Kennedy (1963), Herbert Hoover, (1964), and Lyndon Johnson (1973), and General of the Army Douglas Mac Arthur (1964).



Gen Mac Arthur 1945